Very cool Night of the Living Dead shirt from TeeFury today.

Here's another Firefly design I don't understand at Qwertee, and I'm all the more confused because it is a Jurassic Park mashup too.

Song Bird makes another appearance at Tilteed.

Good use of negative space from Stupidhurts.us today.

Nice take on the old proverb from Shirt.Woot.

I guess that Teenage Mutant Ninja Turtles must be popular again since there is a definite rise in the amount of TMNT shirts I've been seeing recently, and I'm not exactly hunting them out. From $10 at RIPT.

I previously featured this shirt a couple of weeks ago when it was on RedBubble, but now it has made it's way over to The Yetee for the next few days.

I haven't seen Machete but this parody shirt from OtherTees still makes me laugh.

How depressed does Snuffaluffagus look? 24tee.

As a big Community fan I am very pleased to see this 'Troy & Abed in the morning' shirt up at TeeRaiders.

The infinite Swiss army knife makes a return to Loviu.

Nice to see a Zoidberg/Futurama shirt on Shirt Punch today.

I think I'd probably like this latest DBH shirt if it didn't have the sea turtle on it, but it's still wearable nevertheless.

Don't worry, it's cool to be a nerd now! $11 down from $20 at BustedTees today.

The Cool Hunting gift guide is now live.

I Am The Trend have an excellent post introducing Grave Takers, a new brand from Kyle Crawford of Electric Zombie fame.

RUReppin found some useful articles for t-shirt designers.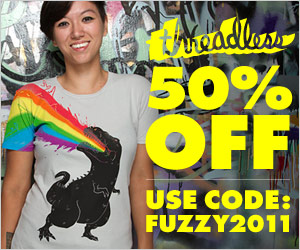 Don't forget about that massive 50% off coupon at Threadless (40% off hoodies), with free shipping available if you spend more than $60.

Glennz Cyber Monday deal for 20% off all tees will be expiring at midnight tonight CST. Use the code mondaytuesday to receive the discount.