That's how I like to start out the daily roundup, with a muscular naked man, thanks TeeFury!

'Dead Head' comes back from the dead at Tilteed.

Oh wow, it's a Firefly/Serenity reference that I understand from RIPT.

Why it's a paisley tree of course. Pick it up at Stupidhurts.us

What a delightful Doctor Who t-shirt from Shirt.Woot today.

I'm not sure if this is a reference or just your run-of-the-mill Narwhal shirt from TeeMinus24 today.

Dalek United have a pretty tight defence but they definitely lack creativity up front. 24tee.

Pretty cool Griffin design at Loviu today.

Shirt Punch bring us our third Doctor Who t-shirt of the day, this time teaming the Doctor with The Who.

TeeBlitz bring us a sketch-style robot design.

Very interesting shirt today at DBH.

We've just about reached the end of Cyber Monday madness, but PLNDR are still holding out for a few hours (midnight in an unnamed timezone).

Thanks to I Am The Trend for writing about my new camera accessories site, Rigu.

Beandip are opening a pop up shop and that is apparently a pretty good reason to have a party.

Use the coupon code GLARKMAS to get free shipping (in the US and Canada) when you buy 2 or more shirts at Glarkware.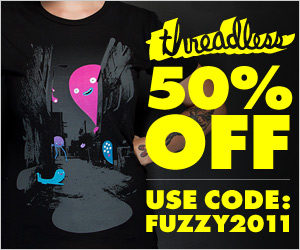 Don't forget that you can get 50% off tees and 40% off hoodies at Threadless with the coupon code FUZZY2011, and free shipping if you spend over $60.