Welcome to December. Naturally a lot of brands will be focusing on making sales during the run up to Christmas, and I suspect we'll see a lot of coupon codes and discounts revolving around that, so the news portion of these roundups will likely grow. These roundups do take quite a lot of time, so if you like it, share it please!
When I try to visit TeeFury Firefox comes up with this. Now, I am 100% confident that Teefury has not been an elaborate phishing scam from the beginning, but after checking out their Facebook page it seems a lot of people have also had this message come up, so I feel that their site may have been compromised in some way. This happened to HYA once and it was hell getting it fixed as someone that doesn't have much technical expertise, hopefully they will have it sorted soon and it doesn't cause too many headaches, but I recommend anyone who has visited in the past few days to run a virus scan. There has been no response that I can see from Teefury as of yet.

Quite a clever shirt from Qwertee today, showing fictional books based on movies such as Ghostbusters and Back To The Future.

There's a lot of excitement over at RIPT for this Star Wars x Transformers mashup.



Fun Ackbar-based Star Wars t-shirt over at Nowhere Bad.

"Moose-tache" is a 'ha' design, but not something I'd see myself wearing from Stupidhurts.us.

I really like this subtle Batman shirt from Shirt.Woot today, especially with the minimal use of glow-in-the-dark.

I've looked up 'shit on a shingle' and I can't quite fathom what it's association with Mario is in this 24tee shirt, anyone?

'An owl named Hooty' makes an appearance at Loviu.

That 'super-featherweight champion' cat is back at Tilteed.

Catch of the Day Tee pay homage to True Blood in the form of a license plate.

Shirt Punch have a great LOST t-shirt on offer today.

This shirt at TeeBlitz was design by the art director of the Thundercats animated series.

Really lovely new shirt from DBH today.

BustedTees have put this Jake & Amir themed tee on sale at $10 instead of $20 for their daily deal.

laFraise are offering free shipping when you buy two shirts using the coupon code XMASDEC before Sunday.

Sneaker Freaker have released their 23rd issue.

Sad to say it but People Like Me will be shutting down in a week.

ThinkGeek are offering $5 off orders of $30+ and $10 off orders of $50+ with the coupon code BLUEBEANIE until midnight ET tomorrow.

Rigu is still a thing and it would still be great if you could check out my fledgling camera accessories site.

Team Manilla Lifestyle have a new lookbook.

A Better Tomorrow have started selling kids t-shirts.

The Affair are offering free shipping with the coupon code HUMBUG until December 11th.

Worn By, apparently inspired by the semi-recent Stone Roses reformation, have started selling a replica of this shirt which was famously worn by the iconic front man Ian Brown.

That flyer might make your eyes bleed but if you're in Bristol this weekend it is well worth reading because there is a big sample sale going on with a lot of brands involved.

The Insound Winter design Project has released it's latest shirt, this time celebrating someone I've never heard of called Kurt Vile.

The Tshirt subreddit has broken the 200 reader barrier.

Kissmetrics have a good guide for brands wanting to engage their Facebook fans.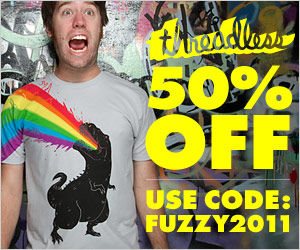 There's still 5 days left to get 50% off at Threadless with the coupon code FUZZY2011.